This online exhibition has been developed as part of the Australia-Indonesia Museums (AIM) Project.
Jointly funded by the Department of Foreign Affairs and Trade (DFAT) through Australia-Indonesia Institute (AII) and the Ministry of Education, Culture, Research and Technology of the Republic of Indonesia, the AIM Project has been led by Deakin University's Cultural Heritage Asia-Pacific Group in collaboration with the Museum Nasional Indonesia, the Western Australian Museum (WAM), the Southeast Asia Museum Services (SEAMS), and fourteen partner museums from across Indonesia.
The AIM Project was established with three main objectives. Firstly, to support long-term partnerships between Indonesian and Australian museum professionals and their institutions. Secondly, to generate new stories about connections between people and places in Australia and Indonesia. And thirdly, to develop new approaches to object interpretation through workshops, discussions and co-curation of this online exhibition.
Over eighty people from Indonesia and Australia have contributed to developing this exhibition, including curators, historians, academics, photographers, designers and more. We would like to thank everyone who has contributed to making this exhibition possible.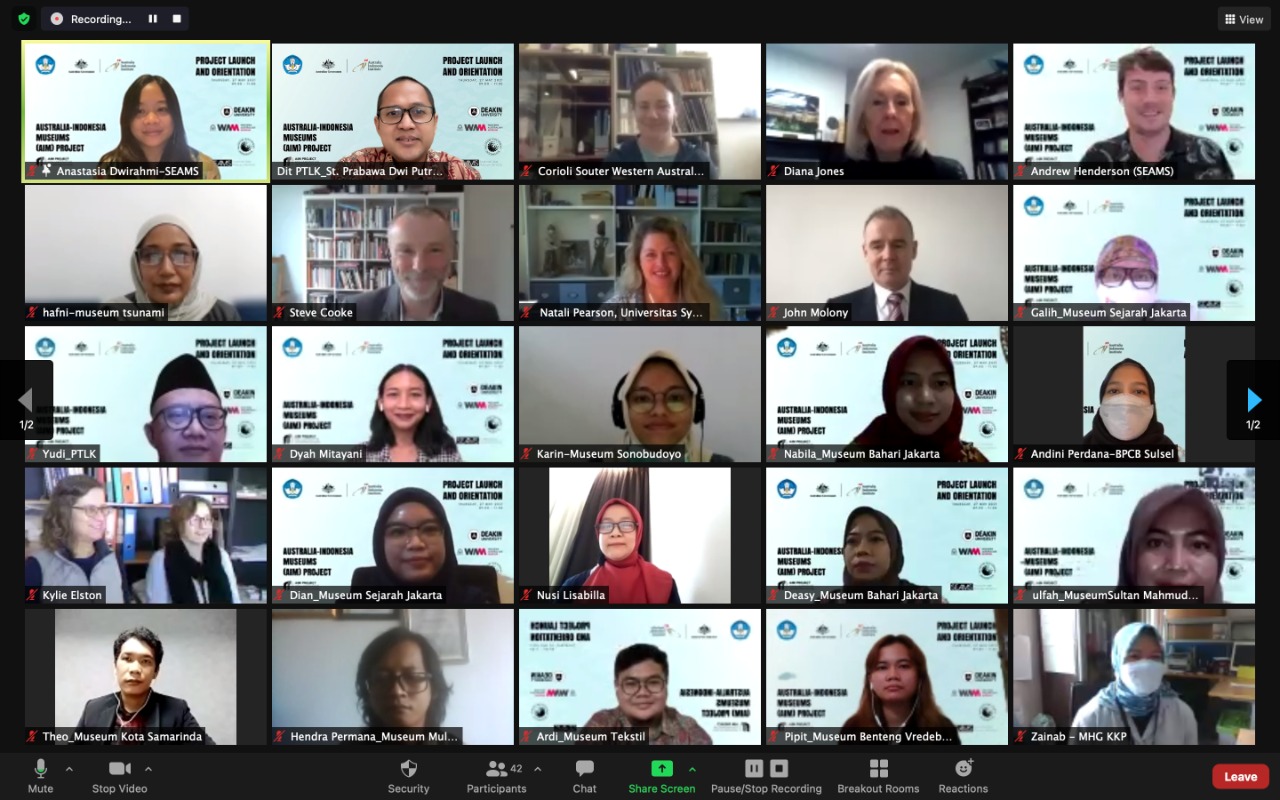 List of Acknowledgements
Ministry of Education, Culture, Research and Technology of the Republic of Indonesia
Dr Hilmar Farid
Judi Wahjudin
Wawan Yogaswara
Hary Mahardika
Isti Sri Ulfiarti
St. Prabawa Dwi Putranto
Susiyanti
Syarah Nadila
Mentari Putri Ramadhanti
Watie Syari
Magdalena Sihite
National Museum of Indonesia
Sri Hartini
Nusi Lisabilla Estudiantin (AIM curator)
Maulidha Sinta Dewi (AIM curator)
Fajar Ichsan Hadianto (AIM curator)
Gunawan
Western Australian Museum (WAM)
Alec Coles
Corioli Souter (AIM curator)
Kylie Elston (AIM curator and exhibition editor)
Dr Monika Durrer (AIM curator and exhibition editor)
Dr Christine Porr (AIM curator and exhibition editor)
Jessica Green (AIM curator)
Patrick Morrison (AIM curator)
Dr Moya Smith (Exhibition editor)
Dr Ross Chadwick (Exhibition editor)
Erin Vlajsavljevich
Scott Bamford
Sarah Dunbar
Andrew Rowe
Deakin University
John Molony
Dr Steven Cooke (AIM curator)
Jakarta Maritime Museum
Nabila Khoirunnisa (AIM curator)
Rucitra Deasy Fadila (AIM curator)
Triyadi Purnomo
Jakarta History Museum
Galih Hutama Putra (AIM curator)
Dian Permatasari (AIM curator)
Fendrik Saputra
Textile Museum, Jakarta
Ardi Hariyadi (AIM curator)
Rahmadi Widodo
Ahmad Hasan Basori
Marine Heritage Gallery
Zainab Tahir (AIM curator)
Fransisca Adventa
Elmer Simanjuntak
Sultan Mahmud Badaruddin II Museum, Palembang
Nyimas Ulfah Aryeni (AIM curator)
Kiki Fitriarizki
Pedir Museum Aceh:
Hafnidar (AIM curator)
Masykur
Old Banten Archaeological Site Museum, Banten
Siti Rohani (AIM curator)
Ade Fitria
Multatuli Museum, Banten
Hendra Permana (AIM curator)
Ubaidilah Muchtar
Siti Nurhasanah
House Of Huang (Oei) Museum, Lasem
Scholastica Rania (AIM curator)
Himawan
Sonobudoyo Museum, Yogyakarta
Agustinus Wisnu Kristiyanto (AIM curator)
Isnani Umi Muslikhah (AIM curator)
Ayu Dipta Kirana (AIM curator)
Fort Vredeburg Museum, Yogyakarta
Pythagora Yuliana Purwanti (AIM curator)
M. Yusuf
Isyak Warih
Nasib Riyanta
Institute of Cultural Heritage Preservation in South Sulawesi, Makassar
Andini Perdana (AIM curator)
Anggi Purnamasari (AIM curator)
Achmad Abdul
Samarinda City Museum, East Kalimantan
Theo Nugraha (AIM curator)
Mulawarman Museum, East Kalimantan
Winda Saputri (AIM curator)
Mangir Anggoro Titiantoro
Photographers & Videographers
Feri Latief
Bambang
Gideon Hermantoko
Ulin Nuha
Sisca Ezperanza
Vega Probo
Dwi Oblo
Akbar Octavia
Muchammad Anggara
Wendianto
Muhammad Al Fazrin
Hotli Simanjuntak
Additional images and video content
Rijksstudio, Rijksmuseum, Netherlands
Kerry Stokes Collection, Perth
Prof. Alistair Paterson, UWA
Translator & Interpreter
Significance expert
Southeast Asia Museum Services (SEAMS)
Andrew Henderson
Anastasia Dwirahmi
Dyah Mitayani